Kabul, 18 May 2015 - The Afghan Midwives Association (AMA) and the Ministry of Public Health (MoPH) celebrated the International Day of the Midwife (IDM) with the support of UNFPA and USAID in the auditorium of MoPH. This year's theme was Midwives: for a better tomorrow. The aim of IDM was to celebrate midwifery and bring awareness to the importance of the role of midwives.
The Deputy Minister of Public Health, Dr Najia Tariq; the Deputy Minister of Women's Affairs, Dr Muzhgan Mustafawi; Chief Executive's Advisor for Youth and Women's Affairs, Habiba Surobi; representatives of the Government of Islamic Republic of Afghanistan, Parliament, national and international organizations, including the United Nations, were present at the event.
Every year over 287,000 women and over three million infants around the world die as a result of preventable pregnancy and childbirth related complications. Most of these deaths would be prevented if there were sufficient qualified and adequately resourced midwives. Although in Afghanistan the maternal mortality rate decreased 3 - 4 fold during the past 15 years, yet there is a long way to go. Still 1 in every 50 women in Afghanistan dies from a pregnancy-related cause during her lifetime.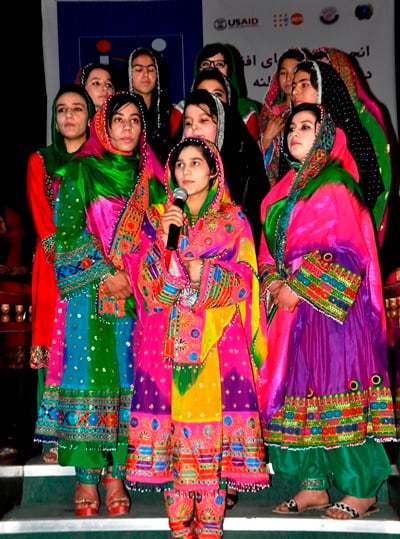 To highlight the importance of midwifery in Afghanistan, the Deputy Minister of Public Health, Dr Najia Tariq stated: "The role of midwives is valuable in the implementation of strategies and programmes to improve the health of mothers and their families."
The Ministry of Public Health and the AMA, with the support of partners such as USAID, UNFPA and WHO have made substantial progress in the midwifery profession. One of these achievements is the increased number of community midwives in rural areas. In 2002, after the fall of the Taliban, only 467 midwives served the country. Today that number increased up to 4600. Two other highlights are the first-ever Bachelor's degree in midwifery at the Kabul Medical University and the two year bridging degree programme at the Zawul institute of Higher Education.
"To further strengthen the midwifery profession, standards of midwifery practice must be regulated and upheld as well as recruitment and retention policies enhanced. Most importantly, there is a need for additional community midwives in the most inaccessible areas", said Dr Annette Sachs Robertson, UNFPA Country Representative in Afghanistan.
The International Day of the Midwife was succesfully celebrated with high profile attendance of Government officials. The day ended with the a call for action from AMA asking for more investment in the midwifery profession and 'continuing advocacy for midwives in Afghanistan.'
See also:
Read/Download Press Release:
---
For more information:
Massoma Jafari, 
Vice President AMA
ama_vicepresident@afghanmidwives.org
telephone: +93 (0) 796858875
Sahar Jahish, 
UNFPA Communications Consultant
jahish@unfpa.org
telephone: +93 (0) 729261392