Story by: Zaeem Abdul Rahman
The COVID-19 pandemic is overwhelming even the most robust health systems. Now imagine the situation in Afghanistan: ongoing conflict, weak health system, limited respirators and no money to buy even the most basic medicine. Thousands of Afghans have tested positive for COVID-19 and the price of medicines has soared. The situation is catastrophic.
Dr Humaira knows from personal experience: "I was giving advice via a hotline to hundreds of young women and girls on how to protect themselves from COVID-19, but then I become infected myself."
After almost three weeks of home quarantine and medication to ease the symptoms, Dr Humaira returned back to work. "I knew it would be challenging during home quarantine, but I'm relieved that I recovered and returned back to work. Now that I have experienced COVID-19 I can empathise a lot more with my patients," she explained.
Humaira operates a hotline supported by UNFPA and Afghanistan's Ministry of Public Health which helps young people understand and cope with COVID-19. She provides practical and professional advice which helps to reduce panic among the beneficiaries of her services.  The hotline gives critical information on preventive and mitigating measures including hygiene and sanitation practices and information related to testing centres and their location. The hotline also supports survivors of gender-based violence with information on protection services and legal advice. It is run by 20 professional staff members including doctors and psychosocial counsellors.
The hotline service is a popular one. Within just three months, over 51,000 young people called the hotline from which more than 15,000 callers requested direct advice related to COVID-19. 
Dr Waheedullah Noori coordinates the hotline: "Callers were worried, stressed out and were concerned about how they possibly fight against the pandemic," he said.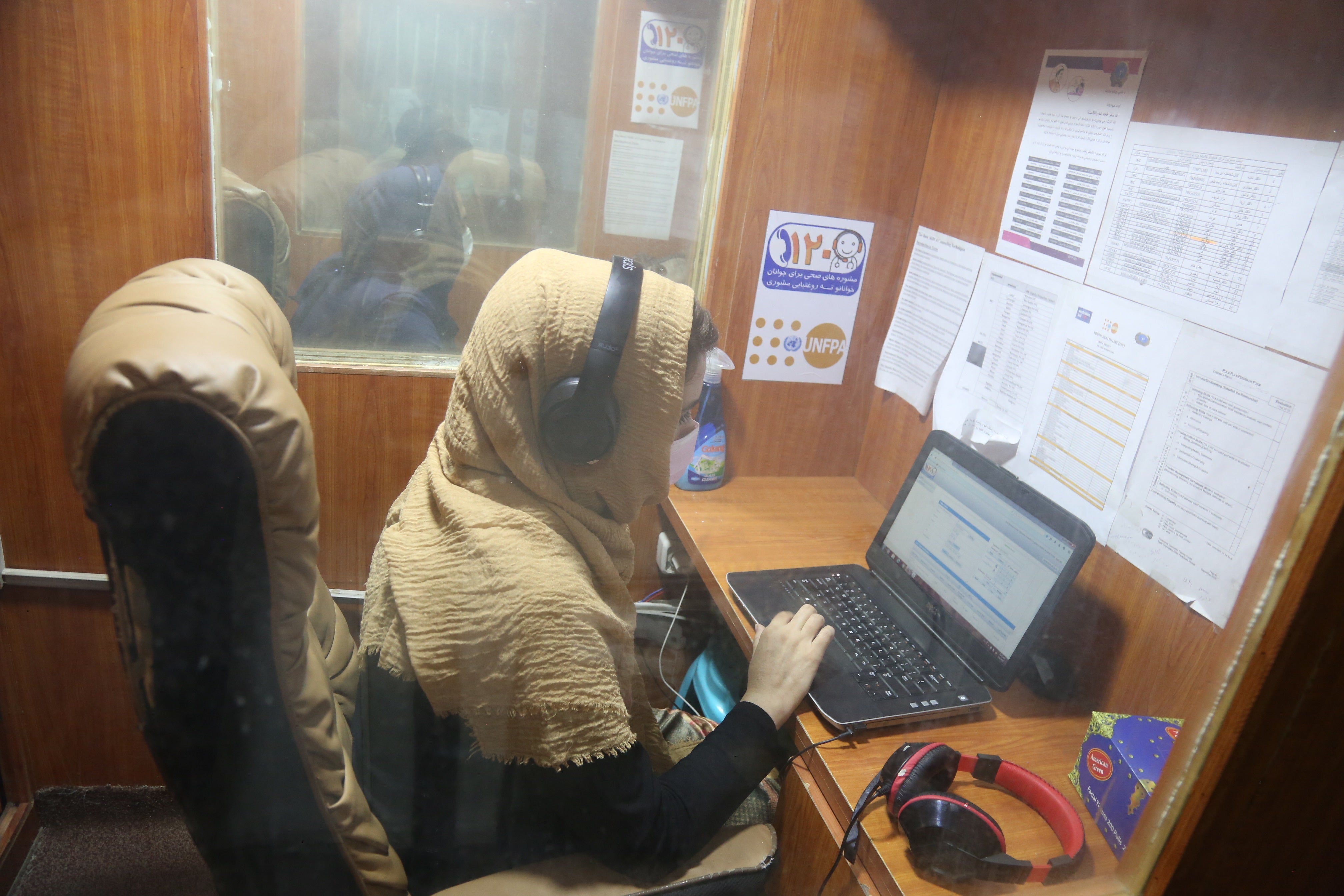 Fighting rumours in Kandahar
Aziz Ahmad* is a regular caller from Kandahar, where there is limited testing because of inadequately trained laboratory technicians and broken testing facilities. Aziz calls the hotline frequently to get factual updates, which helps reduce misinformation. Afghans are petrified of COVID-19 because they know the health system does not have the capacity to cope with lots of people getting sick. The hotline alleviates fear and enable people to better managed the stress building on factual information. It also increases people's confidence to get tested, which is critical to managing the spread of the pandemic.
Aziz spent US$200 of his own money to purchase soap for his community. "When COVID-19 hit Afghanistan, I knew there would be a big problem, particularly for my community. I received very useful information from the hotline. I purchased handwashing liquid and soap and distributed to the most vulnerable families in my community. Their health and protection are important to me."
* Name changed to maintain confidentiality