"I was told that my repair surgery will be done on Wednesday. The night before I couldn't sleep. I was happy, nervous, anxious and scared. I couldn't believe this day was finally coming. I couldn't believe I was going to be fine and that the days of feeling embarrassed at my clothes being wet will soon be behind me. I will not smell bad again.
The doctors had assured me the surgery would go well. They also insisted that I should rest well before the surgery. I cried myself to sleep in the joyous thoughts of being well and socialising with my family and friends again."
Najiba, 40 years old, was scheduled to be the first patient to receive the repair surgery one afternoon in late April 2017, after she had lived with VVF – Vesicovaginal Fistula - for many years which left a devastating effect on her confidence, social life and happiness. She can't remember when she got fistula.
Obstetric Fistula (OF) is a child birth injury, often through prolonged obstructed labor; a hole (commonly referred to a fistula) is created and connects the birth canal with either the urinary tract or the rectum or both. The condition devastates the lives of women, leaving them with constant leakage of urine or faeces or both.  United Nations Population Fund (UNFPA) is establishing treatment centres to help women like Najiba return to a confident and dignified life.
"I have 6 children. I was engaged when I was 14, got married when I was 16 and had my first child when I was 18 years old.
I can't remember what happened exactly, but it was after I gave birth to my second child at home that I felt untine incontinence. My first child was delivered in a Hospital.
With [my] later births, which were also at home. The incontinence increased. I didn't know what to do! I constantly leaked urine, I saw many doctors in Herat and also travelled to Kabul, but all was in vain. Last time, in Herat, they told me I either have to go to Kabul again or go out of the country. Desperate and hopeless after seeking treatment in Kabul twice, I decided just to stay at home and accept the condition.
Life was miserable; I slept in the hall way whilst my husband slept in the bedroom. I felt very sad, but I couldn't blame him, because I smelt bad all the time. It was not easy to stay clean. The last 5 or 6 years were the worst - I couldn't stay neat at all."
Najiba's account of her life shows that she might have lived with fistula for 20 years, considering that she developed fistula after her second delivery at home.
Obstetric fistula is a debilitating condition, which is made all the more worse by the poor conditions and cultural norms in Afghanistan.  The smell of urine and faeces, wet and soiled clothes, the constant effort to stay clean, stay away from your loved ones around you and stay away from any social gatherings, are just some of everyday humiliating practices women with fistula experience.  In Afghanistan, there is additional shame for the women because of the false belief that the condition is a curse of God.  This results in women feeling extremely depressed and in utter desolation; taking away their dignity, their families, and their communities.  
The underlying reasons for the condition are "early and child marriage, consecutive pregnancies without birth spacing, lack of access to medical attention and the misconception about the redundancy of medical attention during pregnancy and delivery", said, Dr. Tahir Ghaznavi UNFPA Reproductive Health Specialist. "These are not only the main causes of fistula but also maternal and child deaths in Afghanistan."
Soon after the Fistula Treatment Center was established in Herat in January 2017, the center started to provide surgery for fistula patients from across the regions including Herat, Badghis, Ghor, Farah and Nimroz Provinces. UNFPA trained 4 surgeons, 1 anesthetist, and 4 midwives in repairing obstetric fistula and caring for fistula patients.
Twenty seven Afghan mothers who lived with a pelvic floor disorder, including Obstetric Fistula (OF), received treatment at the newly established UNFPA –- Obstetric Fistula Treatment Center at Herat Regional Hospital in Afghanistan.
Of the total 27 patients with pelvic floor disorders, 17 were fistula cases and the remaining 10 suffered from uterine prolapse. All of those cases were successfully repaired.
Expanding the Fistula Treatment Centre to regional hospitals is part of an initiative by UNFPA to rollout services closer to patients at the regional level. As specified by the Ministry of Public Health, the next regions include, Nangarhar, Kandahar and Balkh Regional Hospitals.
The availability of treatment centres in these regions would mean that fistula patients wouldn't have to take the long journey, sometimes over 50 hours, to the Obstetric Fistula Treatment Center at Malalai Maternity Hospital in Kabul.  This journey also requires available cash and a companion and for some, the dangers from insecurity in their provinces means the women have to take potentially life threatening risks for the journey.  On top of all this, the incontinence the women experience makes the journey even more challenging, especially given the majority of women who make this medical trip to Kabul are from rural, religious and conservative communities who show disdain for this condition.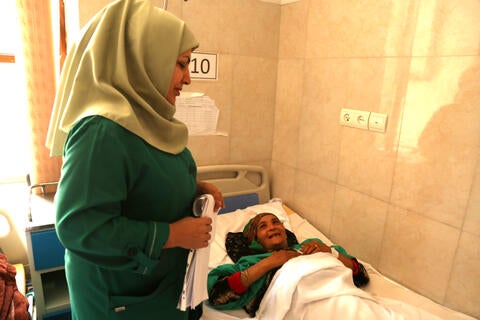 Recalling the whole experience of her previous trip to Kabul brought tears in the eyes of Najiba. Nonetheless, the tears also had a smile of joy and relief. After she had heard about the Obstetric Fistula Treatment Center in Herat and was admitted there, she was soon diagnosed with VVF-Vesicovaginal Fistula; a fistula connecting the urinary tract to the birth canal.  Najiba's surgery was successfully completed by an Afghan Team of surgeons headed by Dr. Nazifa Hamrah with support from Dr. Shukria Zaman.
According to the Afghanistan Demographic Health Survey, 2015, of all the women surveyed (in reproductive age of 15 – 49 years) 3 per cent reported to have had symptoms of fistula. Unfortunately, one in two of the women who reported to have had symptoms of fistula, had not sought treatment.
To respond to women with fistula, UNFPA also established an Obstetric Fistula Treatment Center in Kabul which treated 120 patients with a pelvic floor disorder in 2016.  Dr. Hamrah and Dr. Zaman are among the most experienced Obstetric Fistula Surgeons working at the OF Center at Malalai Maternity Hospital in Kabul. They have received numerous trainings and on the job support from UNFPA in Kabul. Both of these surgeons were in Herat with the visiting mission to deliver on the job training for the newly trained doctors and midwives in Herat.
"It is now a few days since my surgery, I was recently told to start walking", said Najiba in delight, "I feel so light again, I had forgotten what it feels like to be a normal person. I walked around my home, everything looks different and it is as if I am reborn. I am so happy. My illness was the worst of all illnesses and now that I have been treated I feel so grateful each day." 
Ahmadullah Amarkhil