Kabul, 21 February 2018 – UNFPA, the United Nations Population Fund and the Ministry of Economy representing the Government of the Islamic Republic of Afghanistan signed the Standard Basic Assistance Agreement (SBAA) today at the Government Media and Information Center in Kabul. The SBAA is an umbrella legal document that governs all UNFPA technical and financial assistance in Afghanistan.
So far, UNFPA assistance interventions were governed under a similar agreement signed between the Afghan government and the United Nations Development Programme (UNDP).
The United Nations through its different agencies aim to assist developing countries in their vital and pressing development issues in an effort to enhance living standards and accelerate social and economic development.
"The BSAA as a legal umbrella for UNFPA technical and financial support is being signed for the years from 2018 – 2027 with an estimated budget of 150 million dollars", said H.E. Dr Mustafa Mastoor, Minister of Economy.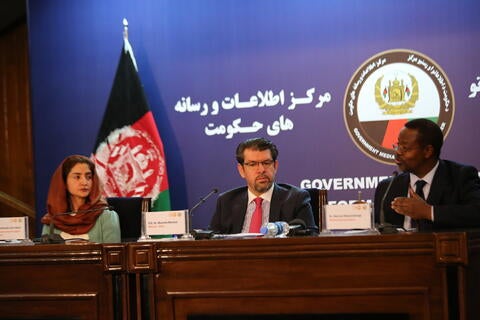 "I would like to renew our commitment  that UNFPA will continue its long standing support to the people of Afghanistan  and the government to ensure  that  lives are saved, ill-health is prevented  and quality of life and wellbeing is improved. ", said Dr. Bannet Ndyanabangi, UNFPA Representative in Afghanistan, "Today, we are reviewing our 2017 programme achievements and also presenting our programme for  2018 that aims at contributing to the same objectives of improving the wellbeing and quality of life of the Afghan people".
The Standard Basic Assistance Agreement  
The agreement signed today encompasses the basic conditions which shall govern UNFPA and its implementing partners' assistance to the Afghan government. This agreement serves as the umbrella for all other project documents and responsibilities of all the parties involved in executing the projects in the country.
The assistance and service delivery carried out under this agreement shall be based on requests by the Afghan government, in line with UNFPA mandate in Afghanistan, UNFPA transformative goals 2030 and the 6 thematic areas to be agreed upon between the Afghan government and the United Nations in the "One-UN – Afghanistan" document.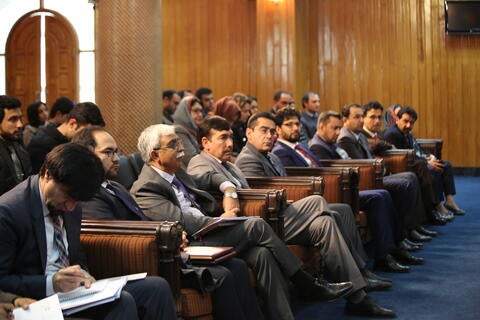 United Nations Population Fund in Afghanistan
UNFPA has been working in Afghanistan since 1976. Before re-establishing its country office in Kabul in 2002, UNFPA served the Afghan refugees in Pakistan and Iran. Since 2002, UNFPA implemented 3 country programmes, providing technical and financial assistance to the Afghan government.
Working under its 4th country programme 2015 – 2019, also signed between UNFPA and the Ministry of Economy, UNFPA's assistance and service delivery in Afghanistan is focused on the long term goal of "Delivering a world where every pregnancy is wanted, every childbirth is safe and every young person's potential is fulfilled."
For more information:
Subrab Bahman, Spokesperson
Ministry of Economy
Phone: 0799604760
email: suhrabb62@gmail.com
Communication and Advocacy, UNFPA Afghanistan
Phone: +93 70 026 3232
email: amarkhil@unfpa.org