October 10, 2017, UNFPA donated IT Equipment (20 desktop computers) to the Resource Center of the Wolesi Jirga as part of signed agreement of Annual Work Plan committed toward technical and operational assistance to the Afghan Parliament.
UNFPA's Program Specialist Dr. Bashir Najeeb handed over officially the Transfer of Title (TOT) to honorable Mr. Khuday Nazar Nasrat - Secretary General of Wolesi Jirga.
"UNFPA has been very generous in providing technical and operational support to the Afghan Parliament and we really appreciate their efforts. I am very happy to mention that UNFPA is supporting the Afghan Parliament in a very crucial time where the donor community has restricted most of their funds. I am sure the IT equipment will help us in our functions at the Wolesi Jirga", said Mr. Khuday Nazar Nasrat during the event.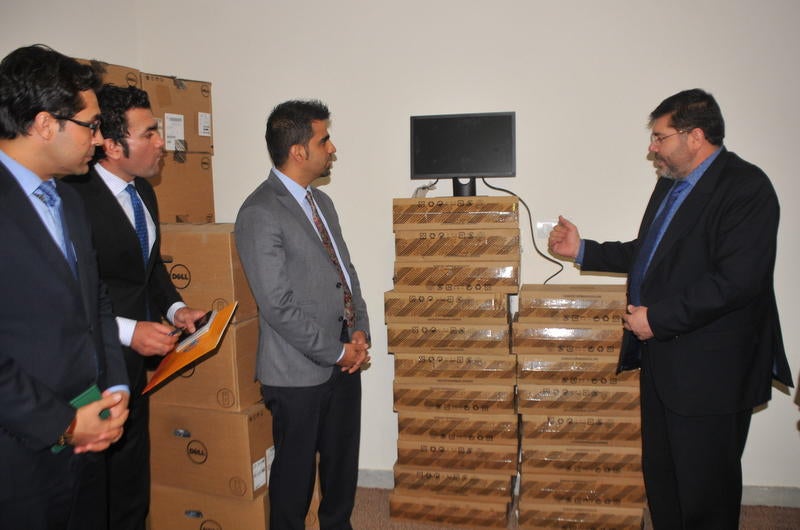 After the signing of the transfer of title, UNFPA and the Wolesi Jirga pledged their commitment to continue working together in order to achieve the mutual goals of cooperation and development.
"I appreciate the leadership of Wolesi Jirga for being very cooperative and eager in relation to the population development agenda. I am personally thankful to the leadership of honorable. Khuday Nazar Nasrat for his support and enthusiasm to working together. We will continue our cooperation and support to the Afghan Parliament in the future", said Dr. Bashir Najeeb UNFPA Program Specialist.